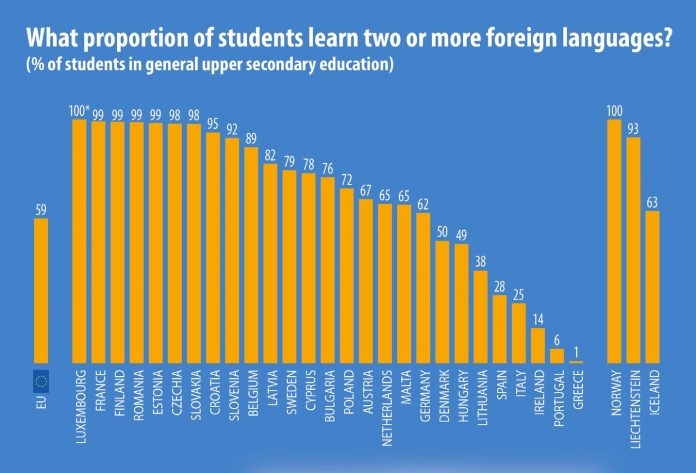 Melanie Butler looks at life after the world has learned English
The market for English language may still be growing. But according to Bonard researcher Patrik Pavlavic, the pace of growth is slowing. One reason, he argues on page 18, is the growth of quality language provision in domestic school systems.
In mature markets, the provision of English in school is all but universal. A 2016 report by the EU found that 94 per cent of all school students aged 16 to 18 were studying English. That doesn't mean that all the provision is both good and effective, however. It's worth noting that Europeans score higher than almost any other group in international ELT exams, with many Northern Europeans outscoring native speakers.
What happens when the market for one language becomes saturated? The answer, at least in Europe, is that students learn a second. As the graph on this page shows, across the EU (excluding the UK) nearly 60 per cent of upper secondary students were studying a second foreign language, mainly German, French and Spanish.
But it is not just Europeans. A 2018 study of students from 136 countries, undertaken by Bonard and the International Association of Language centres (IALC), found that 46 per cent were studying English. But demand for other languages was growing, led by German at 19 percent and Spanish at 15 per cent. Less than 3 per cent of these second foreign language learners were of school age, while 56 per cent of the sample were aged between 18 and 35.
Image courtesy of EUROSTAT