Online is on the rise says Anna Williams of US training giant Bridge.edu
You launched your new practicum – or teaching practice – for online language teachers in December as part of a suite of four specialist courses. And now, six months later, half the EFL teachers in the world find they have had to start teaching online, often with a couple of hours' training, a wobbly knowledge of technology and no practice. At Bridge, why do you think experienced teachers need help going online and why is teaching practice so important?
Covid-19 quickly pushed online learning to the forefront of education; however, online English classes were already on the rise globally. Therefore, those prepared to teach online are not only well positioned now but will be ready to meet growing opportunities in the future.
Yet, teaching English online isn't easy! Although core teaching methodologies apply, it's a unique situation requiring new skills. As well as mastering the technology – such as hardware, software, video conferencing solutions and online teaching tools – there are other challenges. For example, teachers have to set up a teaching space, decide if they'll teach synchronous or asynchronous classes, apply new instructional strategies and negotiate time zones. Our Teaching English Online courses were designed to address all of these challenges.
The hands-on teaching experience that trainees get in the practicum component is important because it helps teachers get comfortable with software for virtual learning by working with an actual online student. The practicum also helps teachers gain confidence when applying for online teaching jobs, which often require a demo lesson during the interview.
Bridge has been offering distance training for EFL for a good 25 years, but you also do classroom training, including Cambridge Celta. What has your experience of training online taught you about the difference?
We've found that teachers who take our programs really appreciate the benefits an online course offers compared to a classroom-based one, especially the lower cost and flexible schedule. Those who don't live in major cities offering courses like the Celta can also get the training they need without travelling (and usually with a more diverse group of trainees).
The challenge that comes with online courses is making sure they are engaging and facilitate active learning. We've found that when courses include a strong curriculum, practical takeaways, interactive content (like quizzes, videos and discussion boards) and a tutor, active learning is facilitated, similar to the classroom.
Online courses are also distinct from classroom courses in that they give us the freedom to keep the content updated in real-time in response to changes in the educational landscape.
"Those prepared to teach online are not only well positioned now but will 
be ready to meet growing opportunities in the future."
All teacher training is a mix of theory and practice – which is more important when teachers switch to working online?
Both are important! While the focus of Foundations and Advanced Methods in Teaching English Online is rooted in theory and methods, we also continually tie in practical content that teachers can use in their classrooms right away. Teachers are able to see the methods they're learning in action with demo teaching videos and case studies and they can test their understanding of concepts with practice exercises, quizzes and assignments such as lesson plans.
Then, our Practicum in Teaching Online lets trainees jump in and apply what they've learned with students on an actual online teaching platform.
You have a number of other specialist courses for experienced teachers – why do you think specialising is important?
We believe that specialisation is important because every student is different. If you're teaching English to a 10-year-old from China and a 40-year-old from Brazil, your strategies, lesson planning, and assessment standards – among other things – will need to be different. Specialised Tefl/Tesol courses like Teaching English to Young Learners and Teaching Business English help teachers understand and meet the needs of diverse students.
Specialisation is also important for teachers' personal and professional development. As they advance in their careers, the stackable credentials we offer (for which teachers earn digital badges), provide a way to learn new, relevant skills for the classroom and to document ongoing professional development to current and future employers.
You have been in the business of training teachers and helping them find jobs for many years. What do you see as the biggest challenge to the profession and what is the biggest opportunity?
Globally, there are at least 20 million English teachers, 80 per cent of whom are non-native English speakers. For these teachers, the biggest challenge is finding affordable, accessible training to advance their careers. We're passionate about tackling this challenge and empowering teachers with the skills, qualifications, and recognition they can achieve through teacher certification and professional development.
The biggest challenge, then, leads to the biggest opportunity. Our mission is 'Empowering a global community of English teachers' and it's exciting for us to feel that worldwide reach, with thousands of teachers from over 140 countries taking our online courses and interacting within the Bridge ecosystem. The biggest opportunity for teachers is making those global connections by sharing their common experience, passion and identity as a community.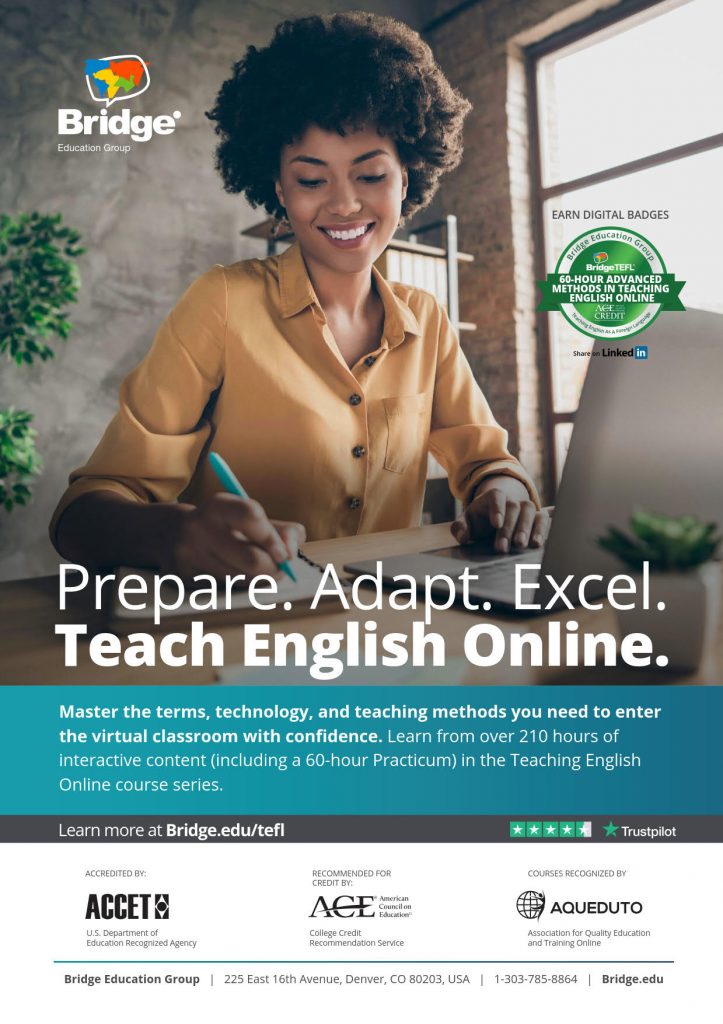 Anna Williams is Bridge's Product Manager. Over her four years at Bridge, 
she has developed innovative online training programs designed to meet the 
needs of English teachers around the globe.
Images courtesy of Bridge.edu and Library