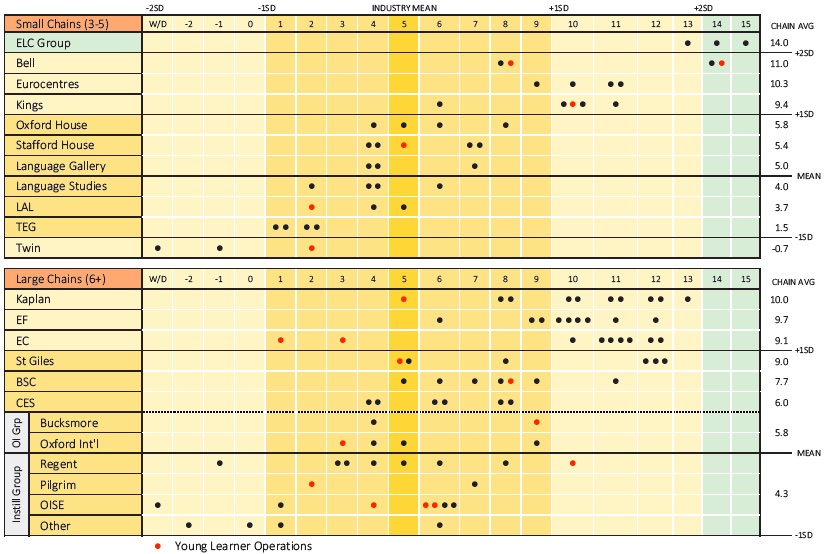 Melanie Butler looks at chain schools
How good are the chains? First, we need to define what we mean by a chain. In the UK, we can distinguish between chains, with schools that are all branded with the same name, and groups, where a number of schools or brands have the same owner.
The ELC group, for example, is a not-for-profit group with three schools for over-16s: The English Language Centre Brighton, The English Language Centre Eastbourne and the newly acquired school English in Chester. It is both high scoring, the mean average being 14 out of 15, and consistent, with all three schools scoring in a three-point range.
TEG, which stands for Thompson Education Group, is a small, branded chain at the bargain end of the over-16s market. It is extremely consistent, but perhaps inevitably, given the price, low-scoring.
The larger the group, the harder consistency becomes. EF does well, with nine schools scoring within a six-point range. If we remove its lowest scorer, which is managed by a different EF division, its language school operation becomes astonishingly consistent. But to the consumer, EF is a single brand.
As we report on the opposite page, few players in EFL are equally good with over-16s and young learners, and it's their junior operations that let down Kaplan and EC.
The UKs largest group, Instill, has three separate brands plus four individually-run schools. With 23 accredited operations, they have some strong schools and a top ten per cent summer school operation. The one thing they don't have, judged by their British Council reports, is consistency.
Image courtesy of Library