El Gazette looks at teaching in international schools in China, Vietnam and Thailand
The demand for international schools has rocketed. There are now 400,000 teachers working in the sector and a teacher shortage is looming, which is good news for teachers looking to move out of EFL and into mainstream schools.
Those looking for an international schools career may also need to take another qualification, such as an iPGCE (a UK postgraduate teaching qualification), but Teflers can rack up useful mainstream teaching experience first.
Here, we take a look at the ins and outs of the sector, focusing on three fast-growing markets: China, Vietnam and Thailand.
Types of international schools
International schools are often ranked in three loose tiers:
Tier 1 schools are not-for-profit and traditionally run by educational foundations, national bodies or churches. If a school is owned and operated by a not-for-profit British public school, it is seen as Tier 1, but forprofit 'partner schools' which simply use a famous name are generally considered as Tier 2.
These schools charge Western level fees and the staff and a high proportion of the students will be expatriates. They hire experienced, state-qualified teachers, though may accept former EFL teachers with an iPGCSE or an MEd and relevant experience. Salaries are at Western levels, and contracts usually include housing, annual airfare, pension, relocation allowance, annual bonus, professional development funds and free education for children of staff.
Tier 2 schools are usually for-profit and are may be owned by private companies or chains like GEMS, Cognita or NordAnglia. The student body is typically a mix of local and expatriate children. Fees and salaries vary from high to mid-range. Packages are less generous than Tier 1 schools, although a housing allowance, annual airfare and health insurance are typically included.
These schools may accept EFL teachers without qualifications, but with some mainstream experience, for EAL support. Some will also help fund an iPGCE or an MEd.
Tier 3 schools are owned by for-profit local companies. They rarely have international accreditation. The students are mainly local children and the staff are a mix of local teachers, and inexperienced or even unqualified Westerners.
Accordingly, salary packages at these schools tend to offer few extras and salaries may be no more than in EFL schools. However, they can be a good place to start if you are not state-qualified.
Teaching in China
Since 2018, schools for students aged 6 to 15 enrolling Chinese citizens must run all courses on a not-for-profit basis and use the Chinese National Curriculum. High school students may attend private international schools or the international section of a public high school.
International school teachers do not need to be state qualified, but they do need to have a degree in Education or a first degree in the subject they are teaching.
Tier 1 schools in China offer English-only instruction (or other languages, such as French) and follow a foreign curriculum, but for younger students, they are now restricted to expatriate students only. These schools hire state-qualified teachers with international experience.
Tier 2 bilingual schools often 'partner' with overseas schools. Above age 15, they often switch to a foreign curriculum, such as US Advanced Placement or British A Levels. Most students are Chinese. Bilingual schools may recruit teachers in-country, making them a better bet for EFL teachers, especially those with an iPGCE. Many are boarding schools and may offer free accommodation on campus in return for residential duties.
Tier 3 'schools' are simply private tutorial centres which offer 'high school programmes' leading to A Levels, IB or other international exams. They need EFL teachers who have experience with IELTS and TOEFL. Pay rates are around the same as language schools, but they can offer a good way into the sector.
Keep in mind
Costs in some Chinese cities can be as high as, or higher than, in the West. Also, traffic in some cities can mean long commutes, and pollution is another concern.
Some teachers report that international schools in many cities have agreed to offer the same pay and conditions, and to not hire teachers away from other schools. If true, this could limit opportunities for changing jobs. Many schools also require teachers to participate in extra-curricular activities and work on Saturdays.
Chinese law on tax exemptions for foreign residents is changing, so you may want to consult a Chinese tax advisor before signing a contract.
Teaching in Vietnam
Since the cap on students was lifted in 2017, the enrolment of Vietnamese students in international schools has grown rapidly. There are more than 100 international schools in Ho Chi Minh City and Hanoi alone, with more opening every year. Most offer either a US, British, or IB curriculum.
There are very few Tier 1 not-for-profit schools here. However, salaries are high and the cost of living is low, and many Tier 2 schools also offer attractive packages. For example, Nord Anglia offer all teachers hired from overseas either free accommodation or a housing allowance, family medical insurance and return air tickets and two free school places. Schools generally require state-qualified teachers with mainstream experience, though some have EAL positions.
Schools with only local licenses (Tier 3) must deliver a bilingual provision and teach Vietnamese culture. They often run a Vietnamese curriculum in the mornings and an English-language curriculum in the afternoons. These schools are growing in popularity, and often require EAL support, making them an option for EFL teachers looking to make the first move into international teaching.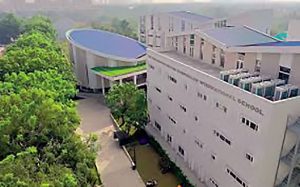 "For many teachers, one big advantage of working in Vietnam is the 
opportunity to travel in southeast Asia during holidays."
A Teacher's Story
Vietnam is very popular with teachers so it may be difficult to find work if you are not fully qualified or have little experience of teaching in your home country. David Waite recently took a job at ABC International School in Ho Chi Minh City, moving from a job in a UK state primary school, with his wife and two young children. David says:
"International schools have high expectations and hire qualified teachers. The smaller class sizes really allow the teachers to get to know, assess and help each student.
"Everyone has been kind, helpful and cheerful. The air is a bit different to the UK. Some people wear masks in the city but most don't. Beaches and streets can be filled with food carts and you may need to walk in the road sometimes.
"The school has provided free accommodation and I have a maid who washes up and does the washing and ironing. It is not something I am used to and I felt guilty at first but it's becoming readily acceptable.
"For many teachers, one big advantage of working in Vietnam is the opportunity to travel in southeast Asia during holidays. The terms are broadly similar to the UK, and I teach the same curriculum as the UK as we are a British school.
"All schools are different but teachers are well respected here and treated with far more dignity than in the UK. The pay reflects this at my school.
"I can honestly say that I am very happy. My daughter has made friends easily and we've all been welcomed by the staff with kindness. Perhaps it was less of a mid-life crisis and more of a positive family life choice."
Teaching in Thailand
There are now around 180 international schools across the country, across all three tiers. Tier 2 schools are sometimes easier to enter initially as an English support teacher, given their larger population of English learners. Tier 3 schools, where most students and staff are local, offer the best way in for EFL teachers.
Keep in mind that a number of international schools in Thailand were founded by Christian missionaries and these values may influence what is taught.
People generally retire at 60, so inexperienced teachers in their 50s and 60s may have difficulty finding work.
The traffic in Bangkok is notorious, and the public transport system does not reach to the suburbs, where many schools are located. Many schools will offer housing nearby and transport to and from school (often on student buses), but it can take two hours each way to get into central Bangkok from the suburbs.
Teachers' views on terms and conditions on individual international schools may be found at:
www.internationalschoolsreview.com.
Thanks to David Waite and ABC International School, Vietnam, for assistance with this article.
GETTING A VISA
CHINA
Teachers working in China for the first time will need a Z visa, which must be completed in their home country. Within 30 days of arrival in China they need to acquire a temporary residence permit, with the employer's assistance, so make sure your employer is experienced in obtaining this.
To qualify for a Z visa for international school teaching, you need a degree in Education or a first degree in the subject you are teaching. Teachers with a degree in English can also teach EFL. Other English language teachers can teach in international schools with either a 120 hour EFL certificate or two years' experience, but cannot legally teach a subject in which they do not have a first degree.
Teachers must be under 60, and for English medium schools must have a passport from an English-speaking country. Teachers also need a criminal record check and a reference.
VIETNAM
To work in Vietnam, you will need both a business visa and a work permit. Apply for the business visa in your home country, and then a work permit once in Vietnam. Your employer should help you with both. Some documents may also need to be notarised to get the visas, and that can cost a bit, but schools will often reimburse for that.
To qualify for a work permit, you will generally need to be from a country where English is an official or first language, have a bachelors' degree in any subject and have completed a criminal background check. You will also need your original university certificate along with a certified copy.
THAILAND
Before entering the country, you will need a Non-immigrant B Visa. These only last 90 days and you will then need to apply for an extension. Your employer should manage this for you, but you will evidence of your educational qualifications, a resume and a criminal record check.
You will then need a work permit, Again, your employers should help, but may require an original copy of your bachelor's degree and a valid medical certificate issued by a Thai doctor.
After receiving your work permit, you will need to apply for a teaching license. Unless you have a degree in Education, you will need to apply for a temporary license, valid for up to six years. Non-native English speakers need a TOEIC/TOEFL or IELTS proficiency test certificate. The provisional teaching permit is valid for 2 years and is tied to the educational institution, so if you move schools, a new permit is required.
Images courtesy of NORD ANGLIA and ABC INTERNATIONAL