Lisa Magloff looks at the ins and outs of becoming a teacher trainer
There are several ways to progress as a teacher in the private language school sector. You can move into administration; or, if you enjoy creating materials, you may want to move into coursework writing or publishing. But if you enjoy mentoring and are interested in methodologies, you may want to consider teacher training.
The pathways into teacher training are not that clear cut, even in the UK and Europe where the Cambridge Celta, Delta and the Trinity models of teacher training dominate the private sector. So, we spoke to two teacher trainers in the UK to get their views on the best ways to become a trainer.
How do you start?
Answering the question of how to become a teacher trainer is not as easy as it may sound. This is because most teachers follow an organic path into training – they may start by doing some training or mentoring at their school, and then gradually begin to do more and more.
Maria Heron, Senior Trainer at NILE (Norwich Institute for Language Education), says that most trainers start by gaining teaching experience in different contexts (in the UK and abroad), and then looking for opportunities to do training. "Once a teacher has a Delta or Trinity Dip and several years' experience in different contexts, it's a natural progression if you work for an institution that offers that opportunity, or to look for a new job that offers the opportunity to start working with teachers."
Jessica Andrews, Assistant Director of Training at International House, London, agrees that "most people get into it through their institution. They are working there for a long time, they may start by mentoring or doing peer observations, or by delivering teacher development or in-service training sessions."
To become a Cambridge trainer, however, you must have five years' teaching experience and have completed a Cambridge Delta or Trinity Dip before you can be approved by Cambridge to start as a Trainer in Training, so its important to gain this experience if you want to take this route.
The main way to become a Celta trainer is to get a Trainer in Training (T in T) position, but these are rarely advertised – schools tend to train up their own staff. So, if you are aiming to become a trainer, try getting a teaching job with a school group that offers a lot of training courses: International House, British Study Centres, Bell, NILE, the British Council or, in the US, Teaching House (part of the Oxford House College chain).
T in T opportunities can be hard to find in the UK and abroad. As T in T's need to be attached to a Cambridge Centre, it is not possible to train up as a freelancer. There is an increasing demand for Celta abroad, and more centres are opening internationally each year so it might be possible to train up outside the UK in places such as Turkey or China.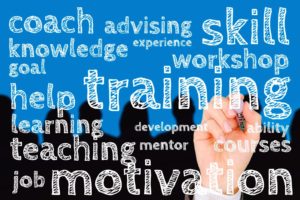 What about Freelancing?
There is another route into teacher training – freelance work abroad. This involves conducting in-service training for groups of teachers. These programs are often government-funded within countries which are looking to build the English-language skills of their teachers. The country may work with a large organisation like the British Council to train large numbers of teachers over a period of several years.
Andrews suggests that, because large projects like these tend to require large numbers of trainers and therefore they "may potentially be an alternative way to get into teacher training. Someone with a Delta or Trinity Dip and experience of mentoring or teacher development could be considered for these positions." She adds that to get these positions, teaching experience is the most important factor, as they don't tend to require any specific training qualifications.
One caveat is that these bigger projects may focus on particular specialisms, like EAP, Clil or working with very young learners. So, getting work on one of these projects may require experience in that specialism.
What is the work like?
Working as a teacher trainer is not for everyone. It is very hands on and requires you to give a lot in terms of providing motivation and helping teachers to manage stress. Andrews says that part of the role of the
"Most agree that working as a trainer is both intensive and rewarding – 
it is definitely working at the chalkface."
teacher trainer is not just to improve teaching pedagogies but to, "reassure [teachers] and help them through [a course]."
Training in-service teachers may have different kinds of stress. They may not have been observed in their teaching before or may have insecurities about their own language if English is not their first language. It is your job to make them feel supported and to find a mutual respect so that both parties are learning from each other."
The job involves working with teachers from different backgrounds and experience and may include helping teachers to improve their own English and classroom language. This may seem to preclude non-native teachers, but actually being a non-native speaker can also be an advantage in training teachers from different backgrounds.
Heron, who is not a native English speaker herself, did not find this a barrier: "I have never felt discriminated against for not being a native teacher or trainer but I think I was very lucky working for organisations where this was not only not an obstacle, but something valued. NILE prides itself for employing the best trainers in their fields, rather than where trainers are born or what their mother tongue is."
The role is varied. Trainers focus on different aspects of methodology and classroom management and facilitate the sharing of ideas, problems, materials and so on. They observe teachers and give oral and written feedback. They organise and lead workshops and sessions to help their own teaching colleagues and may even lead workshops for other organisations in-country or abroad.
Being a trainer is both intensive and rewarding – it is definitely working at the chalkface – for people who want to be practitioners, but also want to do something a bit different.
What about terms and conditions?
Training, like teaching, is not for people hoping to get rich. It does pay more than teaching, but not massively so. It is estimated that a freelance Celta trainer can earn around £2,500 to £3,000 for a four-week course outside the UK.
This may also appeal to people who do not want to work full time. Many freelancers work intensively for a time, and then take long periods off. Andrews says that, "I know some people who run six Celta courses back-to-back and then take four months off."
The opportunity to travel is another upside. Heron points out that, "Depending on what a teacher trainer can offer, i.e. her or his areas of expertise (e.g. Primary, Clil, EMI) there can be lots of opportunities to travel and run workshop or courses in different parts of the world."
And, while the number of teaching hours per week shouldn't be any longer than working with students, preparation time can be much longer, as most trainers tend to create their own materials.
The real reward may be in the work itself. Because you are working with colleagues, rather than students, you are also learning and sharing experiences, best practice, etc. The work is interesting and rewarding, and while it can also be challenging, as teachers' expectations are often high, every course you work on tends to be a bit different.
"People are drawn to what they are good at, so if you are good at being in the class and want to share that, then you might be drawn to teacher training," says Andrews. If giving feedback to teachers makes you feel uncomfortable, then this is probably not the right thing for you."
TOP TIPS FOR WOULD BE TRAINERS
1. Build up your own experience
You may want to begin by volunteering to mentor new teachers at you school and doing peer observations. You can work with other teachers to gain practice in giving feedback.
Organise informal workshops at your school, perhaps around particular themes. Encourage other teachers to share ideas that have worked well for them.
Present, give a talk or participate in a round table at a conference.
2. Take a Trainer training course
These can be particularly helpful for experienced teachers looking to take on freelance work overseas rather than to become approved Celta trainers.
Various organisations offer training development courses, such as NILE Online's From Teacher to Trainer and Trainer Development. NILE also offers programmes such as a Professional Award (see below), and an MA in Professional Development for Language Education with a Trainer Development Module.
IH schools around the world run short, one week teacher training courses, geared towards qualified teachers who want to set up different types of observations or conduct teacher development sessions at their schools. In London, IH also offers a two week course called Teacher Trainer Development.
Cambridge Assessment also offers a Trainer Training course for those training in primary and secondary schools, available to national governments and educational institutions.
Participate in the Professional Award for Teacher Educators. This is recognised by the British Council as a certification of teacher training competence. This two-week programme is designed to develop, measure and validate the competences required for planning and running in-service and pre-service language teacher education programmes. In the UK it is available at NILE.
3. Plot you own Career
Use the Cambridge English Trainer Framework to map and understand the trainer's career path and professional development requirements and options. This is a very useful tool for those looking to move into training. It was developed in collaboration with NILE and aims to help trainers to identify where they are in their professional career and to plan professional development pathways, and to explore research into trainer development.
Download the framework here:
https://www.cambridgeenglish.org/teaching-english/professional-development/cambridge-english-trainer-framework/
Thanks to Jessica Andrews, Assistant Director of Training at International House and Maria Heron, Senior Trainer at NILE for their assistance with this article.
Images courtesy of NILE / Andrew Kahumbu Photography and PIXABAY