A mass teacher-training project, involving more than 1,000 Kazakh teachers of science and IT in state schools, was completed in early November as part of a Ministry of Education national plan to improve teachers' ability to use English as a medium of instruction. The Central Asian country offers trilingual education in Kazakh, Russian and English.
The trainers were recruited by British Study Centres Transnational Education, the teacher training arm of the UK-based chain, working in partnership with Astana International University – based in Kazakhstan's capital, now known as Nur-Sultan.
Training took place in a total of seven regional centres. Most of the two-week courses each had seven British Study Centres trainers and a cover trainer, with two courses taking place in different regional centres in any given week. Two groups of trainers taught at two locations, before moving on to the next two locations, covering a total of 50 training groups in a period of eight weeks.
Magda Sobczynska, head of Transnational Projects at British Study Centres, told the Gazette, that their university partners, "provided logistical academic support on the ground. Each venue had a local assistant (or assistants) who would help with the day-to-day running of the course."
"Astana International University have a real focus on quality delivery which matches our own," she added.
The programme aimed to give practical instruction in Clil methodology and to build the participants' confidence in promoting and managing a communicative, "student-centred" classroom in English. The courses for science and IT teachers included opportunities for micro-teaching, while teachers experimented with a range of activities and gave feedback on each other's materials and techniques.
Bauyrzhan Abuov, from Astana International University, said of the training programme, "It generated a great deal of interest, is productive, and the team of trainers are incredibly professional. They prepare school teachers for a new stage in education, which will improve the educational process in teaching subjects in English and modernise the training programme in the future."
British Study Centres operations include language schools, as well as teacher training and university pathway course. Astana International University is housed at the International Science Complex in Nur-Sultan. The complex includes the brand-new Astana IT University, which opened in September.
Education in Kazakhstan
The Republic of Kazakhstan is the world's largest landlocked country, and the most dominant economy in Central Asian – supported largely by oil and gas exports.
The capital was moved in 1997 from Almaty, the country's largest city, to Nur-Sultan (whose name was changed from Astana in 2019).
Students start primary school at the age of six, attending one of two sessions – either from 8:00 to 12:00, or from 13:00 to 17:00. Primary school lasts four years, from Grades 1 to 4 (ages 6-10).
Secondary schools are split into lower secondary and upper secondary. All students must attend lower secondary (Grades 5 to 9; ages 10-15), but are allowed to leave the education system at the age of 15 after completing Grade 9.
All upper-secondary pupils must choose one of three tracks: General Education, Initial Vocational Education or Secondary Vocational Training.
Kazakhstan enjoys a 97 percent literacy rate and has long followed a policy of bilingual (Russian and Kazakh) education.
After the fall of the Soviet Union, the Kazakh government pursued a more global perspective in its education policies. This can be seen in the country's adoption of a policy of transitioning to tri-lingualism, with the addition of English.
English language learning was added to primary schools in 2016, and in 2018, the country began phasing in the teaching of some history and natural science courses in English. This involved training in English for teaching staff and students.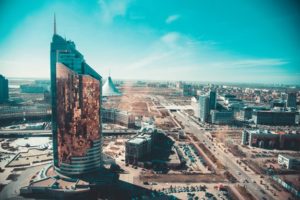 Images courtesy of BRITISH STUDY CENTRES and PIXABAY