Melanie Butler analyses the 16+ results
Private language schools dominate the rankings for over-16s. But not just any private language schools: the long-established ones.
The single best indicator of excellence is being a member of The English Network (TEN). With the entry of the London School of English, the oldest language school in England, every single adult language centre with a perfect score of ten is a member. All three schools in our top 'chain', the English Language Group (see page 19), are members; while the number two in our young learners ranking is another new member: Discovery Summer.
But ELT's answer to the Russell Group (another educational association which recruits from the top, long-established institutions) isn't altogether consistent. Although 12 of its 13 accredited organisations are EL Gazette Centres of Excellence, there is one outlier – a young learner operation with just three strengths.
The teacher trainers do well: Bell Cambridge, BEET Bournemouth and NILE all make the top 30, along with three affiliates of International House.
IH London, IH Newcastle and IH Bristol all carry the IH flag. With TEN members LSI Portsmouth and Torquay International joining its affiliates, IH has nosed ahead in the overall ranking from old rivals St Giles, another teacher-training pioneer which has three centres in the top 30.
Three other chains make an appearance: Kaplan and EC have two centres each and EF Oxford also makes the grade. Hats off, too, to Liverpool School of English, another long-established, high ranking school.
But the grand, old private language schools don't have it all their own way. There are five universities in the rankings: Manchester, Liverpool, Edge Hill, King's College London, Brighton and Leicester. That's 15 per cent of all accredited university language centres appearing in the top 30 but then, as we pointed out in the last issue, the universities are the second-best performing sector in the industry.
That just leaves East Sussex College in Lewes and Eastbourne, previously called Sussex Downs, and our top-ranking Further Education College, heading up a sector which is steadily moving up.
Focus on FE
The UK's Further Education Colleges, which educate British and international students ages 16 and over, are a bit of a hidden gem. Buffeted by government policy and forced into mega-mergers, the sector is emerging from a decade of reform and re-organisation with an interesting offer for international English language students.
There are 33 accredited FE colleges, as they are affectionately known, and with a mean average score of six points they have pulled ahead of the industry average, which is just five. Over a third of them, listed on this page, are EL Gazette Centres of Excellence.
They are particularly strong in Teaching and Learning. Teaching is an area of strength in more than half of these colleges, which are conveniently scattered across the map of Britain. And, they are twice as likely as the rest of the industry to gain a strength in Academic Staff Profile.
One difference is they only run short courses in the summer, otherwise enrolment is for ten or twelve weeks. This means they can offer longer contracts to teachers, as well as better pay than most of the private sector. And it's their teaching which is the secret of their success.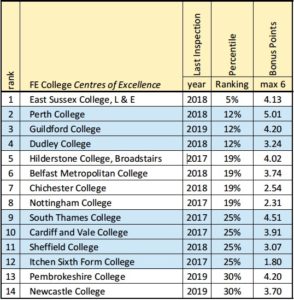 Images courtesy of BEET BOURNEMOUTH and Library