Gill Ragsdale gives seven top tips for teaching English with food
1 Collect students' recipes
Before introducing a recipe, test your students' knowledge of food nouns and cooking verbs, such as 'mix, pour, bake,' and pre-teach as necessary. For lower levels, do not make this list too long.
Give one or more example of an English recipe. A pancake, biscuit or Eton Mess recipe is a good choice for lower-level students.
Encourage students to suggest favourite foods from their own culture. In pairs or groups, ask them to write a simple recipe following the style of the examples.
You may want to use a specific focus as a prompt, for example breakfast, or types of bread (or other starch) tend to be very culturally specific.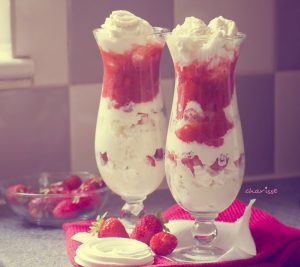 2 Jigsaw recipes
There are many variations on this, for example:
Give students parts of a recipe cut up and have them put it in order. The parts could be diagrams or pictures only, which students can annotate in English.
Give many possible recipe instructions, and ask students to create recipes in pairs or groups. Recipes can be judged by the class.
3 Recipes for authentic listening practice
Instead of giving a written example of an English recipe, have students watch a video. Keep it short and simple for lower levels.
Pre-teach key vocabulary, or just present the words and ask students to work out the meaning from the video.
At intermediate level and above, pairs or groups can watch several videos and report on which they like best, and which are easier or more difficult.
If you don't have a screen, have students watch the videos on their phones – a much under-utilised classroom resource.
Different groups could watch different videos and present their favourite recipe to the class.
4 Cooking without a kitchen
You do not need a kitchen or cooker to try out recipes in the classroom. For example, there are no-bake cookie recipes at https://www.thereciperebel.com.
You can also make milkshakes and mocktails: this is popular with younger students. Students in pairs or group can make a mocktail from juices, cordials and/or other soft drinks, as well as pieces of fruit and various sprinkles of the kind normally used for ice creams. They should write out the recipe, giving the proportions of each ingredient. The resulting concoction can be presented in a jug or clean soft drinks bottle that can be labelled with their chosen drink name.
5 Cooking for video: Linguacuisine
Encourage students to upload their own cooking videos and recipes to Linguacuisine. Recipes uploaded before August 31st 2019 will be entered into a competition with a £200 pound prize.
Instructions are given in English, French, Italian, German, Spanish and Greek. Students will need help with the instructions if they are below intermediate level in the language.
6 Pop up cafés
This is a project for either children or adults. It could be as simple as a few drinks and snacks prepared by the class and opened up to students from other classes, or inviting younger students' families. Or, it could be a menu offered to members of the public.
Many venues with small cafés are willing to host pop-up cafes. For example, Colchester Refugee Action runs a very successful occasional Syrian Pop-up Café hosted by a local gallery and cultural centre.
7 Recipe cards and books
Students can collect and save their class recipes as either individual recipe cards, or together as a book. This could be very simple – just a few pages (even one page) printed and/or photocopied and stapled together.
Involve students in the process of making the pages, printing and/or photocopying. Allocate pages to pairs or groups of students to finalise. If IT resources are scarce, pages can be clearly handwritten and photocopied – handwritten text and hand-drawn illustrations can be a very attractive option.
This can be a great fundraiser, whether it's a small booklet for students and their families, or a larger scale project such as the recipe book 'Something to share' produced from the recipes used in the Syrian pop up café in Colchester: https://refugeeactioncolchester.org.uk/product/something-to-share/.
Spiral binding is a great option for recipe books as it's both practical and cheap.
The recipes can also be put online on a dedicated website or blog, which has the advantage of being able to add new recipes gradually over time.
Images courtesy of NEWCASTLE UNIVERSITY, WIKIMEDIA and REFUGEE ACTION COLCHESTER