As a rule of thumb, the best educational institutions in England are both old and independent. The latest results from the British Council inspection follow that pattern, but suggest a newer phenomenon: grand old independent schools becoming 'bijou' chains.
Take ELC Brighton (founded 1962) which has been awarded a perfect score in the latest round of inspections. It recently acquired English in Chester (founded 1976), which scores 14 out of 15 areas of strength while its sister school ELC Eastbourne, founded in 1936 under the name Eastbourne School of English, achieved 13 out of 15 earlier this year. Are we seeing the emergence of a not-for-profit chain?
London School of English, founded in 1912, has gone one step further. Both its London and Canterbury centres recently received perfect scores – the first time any organisation has had two schools right at the top of the rankings.
No-one in UK EFL will be surprised to see these 'grand old schools' reach the top. Equally predictable is the progress made by St Giles Brighton (founded 1969) and by Harrow Short Courses, owned by Harrow school, which was founded in 1572.
Also in the young learners' market, we see a rise for King's Summer, part of a small chain which includes several boarding schools, and the emergence of IH London Young Learners, a relatively recent addition to the 66-year-old not-forprofit school, just ahead of the year-round young learners' centre at Bell St Albans. One Further Education centre, Newcastle College, also makes the cut.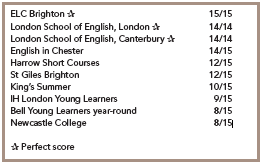 Images courtesy of ELC BRIGHTON and Library