Umair Ahsan shares his experience of teaching in the ever-fascinating country of Turkey
Why Turkey?
Turkey remains a popular destination for English language teaching, and there are always opportunities, both in universities and language schools.
Though the economic picture continues to be far from rosy, and political turmoil is part of everyday life, the attractions of living and working in Turkey remain considerable. Few places can offer such an appealing combination: spellbinding cultural attractions, exotic landscapes, rich history, warm people, great food and generally good infrastructure (in terms of transport, healthcare and shopping).
What qualifications do I need?
For an English Instructor position, most universities stipulate a minimum requirement of an MA TESOL (or equivalent). Some may show flexibility for native English speakers, depending on previous experience, though it is worth noting that English Instructors of local Turkish origin are required to be qualified to Masters level, so the same criteria are increasingly applied to foreign hires.
The Cambridge DELTA is widely accepted as an MA TESOL equivalent, though you may not see it mentioned in job advertisements.
If you plan to teach at a language school, there's more flexibility in terms of qualifications (with some not requiring any at all – just being a native English speaker is enough). Be wary of such operations though: the working hours can be awkward, pay rates low, and the management far from receptive to complaints. Plenty of anecdotal evidence exists that the promises from such outfits are worth less than the paper they are written on; especially when it comes to paying on time (if at all) and securing work permits.
Good language schools do exist, and they are worth seeking out. They will usually have stricter requirements in terms of qualifications, akin to universities.
How much can I earn?
As a single person, 6000 lira/month – almost exactly $1000 at the time of writing – is the minimum you would need in one of the big cities (Istanbul, Ankara, Izmir or Antalya). A reputable university should offer you at least that amount if you have the requisite experience and qualifications.
In terms of living with a family, add on 1000 lira/month for each dependent. Realistically, however, it would be unusual to find a university teaching position that pays more than 8000 lira/month ($1350), and that is for a highly qualified native speaker.
"The attractions of living and working in Turkey remain considerable."
A few things to bear in mind. Firstly, the Turkish Lira remains weak, and inflation is high. Local people have seen a dramatic decrease in their spending power, while foreign staff find it increasingly less viable to convert a portion of their salaries into foreign currency for savings.
If you plan to spend your earnings entirely in Turkey, then this isn't such an issue. But if you want to save money, Turkey is probably the wrong country. Unless, of course, you can find one of the rare teaching positions that pays in US dollars. International schools and select universities do pay in foreign currency (c. $2000-2500 a month to start), but competition for positions is fierce, and you'll be worked hard for your money.
Generally speaking, salaries in Turkey have not been able to keep pace with the double whammy of the lira's precipitous decline (nearly halving since 2016) and high inflation (peaking at over 25 per cent in 2018). And a combination of economic constraints for the universities themselves, together with an influx of highly qualified, highly skilled English instructors from places like Iran and Syria has increased competition for teaching positions at university level. The cachet that native English-speaking teachers once had is not as strong and as a result they can no longer command a guaranteed premium.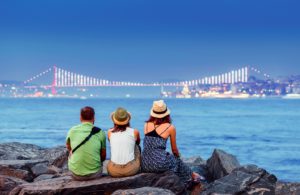 Any other perks?
Many ads will state that the position comes with health insurance, without specifying whether that means Turkish state health insurance or private insurance. There is a big difference in terms of quality and service. While the latter was a widely available perk at private universities just a few years ago, it is increasingly restricted to select employers.
Most universities do not offer accommodation, though some may offer an allowance. Some will offer a flight allowance, or a round-trip ticket to your point of origin. Other common benefits include free/subsidised lunch and service buses – which usually travel a set route.
Rent will be your most significant outgoing – certainly in the larger metropolises of Istanbul, Ankara and Izmir. Check out the residential section on sahibinden.com to get an idea of current rental prices (it has an English version, though many of the ads will still be in Turkish). For a one-bedroom flat in a safe and accessible part of Istanbul, budget for 2000 lira/month. Ask your prospective employer to put you in touch with current staff who could give you tips on renting. Commuting in Turkey's bigger cities quickly goes from exciting to exhausting, so choose your location carefully.
In Istanbul, fashionable expat enclaves like Cihangir will be well out of a university teacher's budget, as will popular areas like Kadikoy. There are many other interesting and more reasonably priced areas to live in (and the larger Turkish cities have abundant public transport options).
How many hours will I teach?
With a private language school, you can choose your own hours. However, employers will only secure work permits for full-time employees.
At university level, the cushiest faculty jobs require as few as 12 hours a week, though marking workloads are high. This can go up to 20 hours, though you should be wary of any request to teach more than 20 hours. You should take it as a given that you may be asked to show flexibility and cover for colleagues in both faculty English and preparatory programmes.
Preparatory positions tend to have a higher teaching load – you might be teaching anything from 18 to 30 hours a week. These positions (usually) come with fewer marking duties, though tend to be very busy when it comes to examination and assessments.
When corresponding with a potential employer, be sure to ask about the English language department's structure, the teaching commitments for the preparatory and faculty programmes, and the likelihood of progressing from 'prep' to faculty, if that's your goal.
In many universities, faculty positions are viewed as a promised land, away from the drudgery of prep teaching. This is somewhat simplistic – and unfair to some of the better preparatory programmes – however, having taught both in my time, there is no doubt that the faculty positions offer greater autonomy, variety, and scope for creativity in terms of teaching and materials development.
Other opportunities
US and Canadian citizens will have an abundance of private teaching opportunities open to them. Rates of 100 lira/hour are not uncommon, and you should consider group classes to maximise your earning potential. TOEFL preparation is in high demand, though it is possible to find other related work (such as proofreading) as well.
If you fancy something different, you could offer your services to the numerous voiceover and acting agencies found in the major cities. They often require a standard English or American accent. The demand for such services is variable, so don't expect to get called often; however, rates are generally high.
And, if you have any other useful skills (teaching yoga, for instance) then that can also be a source of additional income. Just be warned that the wording of your contract will likely prohibit any outside work; but in practice I've never seen or heard of it being enforced.
What should I look out for?
Two things chiefly. Firstly, the higher education council (YÖK) issue work permits for university teachers, and those permits include your residency. While this reduces bureaucracy on your side, it means that your permission to stay in the country is dependent upon your employer.
Should you leave your contract early, you'll have to hand back your work permit, and the onus will then be on you to secure continued residency, by applying for an ikamet (residency permit). This brings the burden of proving you have sufficient financial means to support yourself and acquiring compulsory private health insurance for (non-employed) foreign residents.
Secondly, while I had a great time living and teaching in Turkey, as did pretty much every expat I ever met, the opportunities for meaningful career progression are limited. At university level you can gain some great experience using your own initiative, e.g. developing materials, presenting at one of Turkey's numerous conferences, etc. By all means, do it. Just don't expect that it'll lead to promotion.
Visas and immigration
If you are applying for a job from outside of Turkey, then you could be asked to acquire your work visa from your nearest Turkish embassy before traveling. If you are already some way into the process of applying for positions, it's a good idea to get notarised copies of your certificates and transcripts (translated copies might also be requested).
Make sure your employer agrees to pay for your work permit. This should be a given for any respectable employer, especially for full time positions. If they refuse, it begs the question as to how supportive they will be in other respects.
It is possible to apply for a work permit after entering the country on a tourist visa. For US, Canadian and Australian passport holders, a tourist visa must be obtained in advance (up to 90 days). For citizens of individual EU member states, requirements vary and should be confirmed before you travel. Requirements for UK passport holders could change after Brexit.
However, I would strongly recommend not traveling to Turkey for work without a minimum of a contract in hand. You do not want to run the risk of overstaying on your tourist visa – penalties can be arbitrary, and the Turkish state bureaucracy can be capricious. (I've seen minor infractions punished by a six month ban on re-entering the country, whilst a colleague who overstayed for a whole year was given a $100 fine when he eventually left the country.)
Images courtesy of UMAIR AHSAN and FRANTIC00/SHUTTERSTOCK