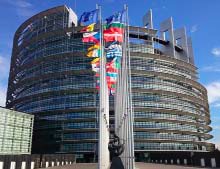 On 25 March, just four days before the UK was originally scheduled to leave the EU, the European Parliament rushed through a regulation protecting the rights of the 21,000 participants currently taking part in an Erasmus+ mobility programme involving the UK.
The UK's leaving date has now been extended until 31 October of this year. The new EU regulation, which is now in force, guarantees funding until 31 January 2020, when the current round of Erasmus funding ends. The emergency measure makes clear that, with regards to Erasmus, "the United Kingdom shall be treated as a Member State, subject to this Regulation," until that date.
Somewhat surprisingly, the UK Government made no mention of the new regulation when it issued its own update on Erasmus+, on 8 April, almost two weeks after the European Parliament passed the measure.
Regulation (EU) 2019/499, to give it its full name, began life as a European Commission 'contingency proposal', which the EU Parliament asked to be put before it to vote.
The original proposal had the stated aim of protecting "the rights of Erasmus+ participants" in the event the UK left the Union without a negotiated deal, the so called 'no deal' scenario. The bill is designed to ensure that "in such a scenario, students and trainees abroad participating in Erasmus+ at the time of the UK's withdrawal can complete their studies and continue to receive the relevant funding or grants."
If the regulation had not passed, the 14,000 Europeans on Erasmus programmes in the UK would not have been able to complete their programmes and might no longer have been eligible for grants. The 7,000 British citizens on programmes abroad were guaranteed funding by the UK government in 2018 but, despite assurances from ministers to the contrary, the guarantee did not cover participants from other countries currently in the UK.
As well as students on exchange programmes at foreign universities, Erasmus+ covers those in vocational education and training, youth learners, and educational staff on teacher training programmes.
The successor programme to Erasmus+, due to launch 2020, is scheduled to see this flagship project double in size, and EU plans anticipate increasing the number of non-EU partner countries. However the plans published by the EU mentions the UK only once, to note the absence of the country's contribution to the EU budget.
In 2018, the UK confirmed that participation in the Erasmus+ successor scheme would form part of its negotiations with the EU during the transition period expected after the withdrawal agreement had been ratified. With the British parliament having voted down the agreement twice this year, government plans for Erasmus in a no-deal scenario remain unclear.
British Universities were given the impression that, in the event of Britain leaving without a deal, the government would create an alternative scheme. This is looking increasingly unlikely, according to Vivienne Stern of Universities UK, which represent the country's vice chancellors.
"As we understand it, there is no money on the table for an alternative scheme," she told the Guardian newspaper in March, "and no work is under way in the Department for Education to prepare one."
Image courtesy of Pixhere